CMR History:
CMR was founded in 1988 through a united step of faith by Fellowship Bible Church in Lindon, UT; Valley Bible Church in Cedar City, UT;  Southland Bible Church in St. George, UT; and Richfield Bible Church in Richfield, UT.  But currently also includes Mountain View Bible Church in LaVerkin, UT; River Valley Bible Church in Mesquite, NV; and Las Vegas Bible Church in Las Vegas, NV.
CMR is located at 8,700 feet elevation on the beautiful Kolob plateau, Its situated on 20 aspen covered acres, twenty-two miles southeast of Cedar city.
The Camp season runs from mid June through the end of July and includes a Leadership camp in which counselors are trained; Teen Camp; Middle-School Camp; Junior Camp; and Family Camp.   (Exact dates are posted on our Website Calendar.)
Camp facilities include 9 cabins, dining hall, chapel, shower and restroom facility plus a  'Snack Shack'.  Sports and recreational opportunities available include our double beach-sand volleyball court, 9-hole Frisbee golf course, basketball, climbing wall, archery range, shooting range, plus hiking and special activities.
A dedication to the practical teaching of the Word of God remains the hallmark of the CMR ministry. Whether on hikes in chapel, or around the campfire, we want every camper to deepen their walk with the Lord, and better understand His love for them.
"That I may know Him, and the power of His resurrection, and the fellowship of His sufferings, being made conformable unto His death." (Philippians 3:10)
What to bring:
Sleeping bag, extra blanket, warm clothes for evenings, modest shorts are ok during the day, extra pair of shoes, Bible, notebook and pen, good flashlight, spending money for 'Snack Shack', crafts and extra water.
What not to bring:
Radios, CD or cassette players, fireworks, matches or lighters, knives and firearms.
"Map and Directions"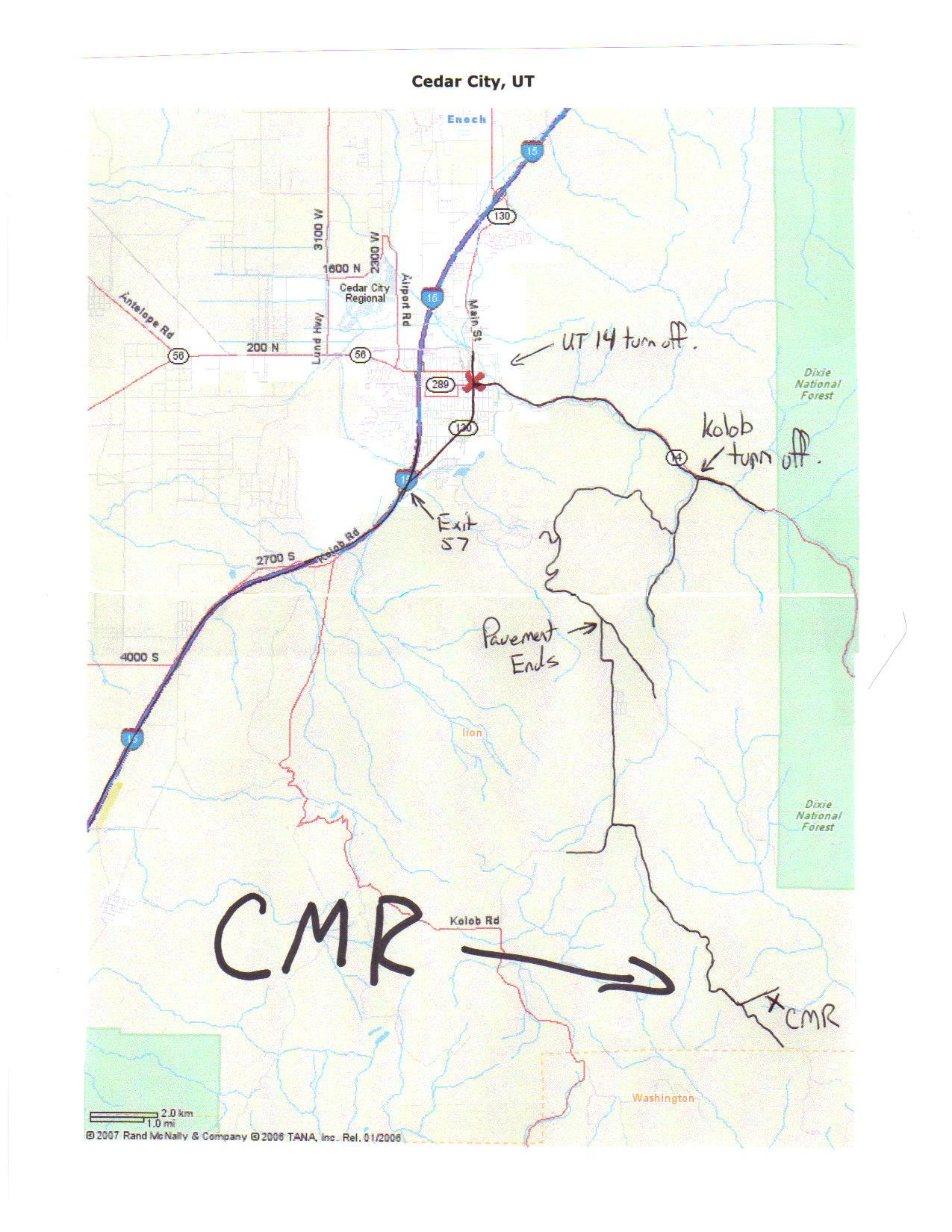 Directions to "Cedar Mt. Retreat."      "CMR"
From Mesquite: Take I-15 North appox. 90 miles to Cedar City Utah.
Exit Interstate at Cedar City Exit #57
Drive 2.5 miles then turn Rt. (East) on SR-14
Continue 5 miles then turn Rt. (South) on "Kolob Reservoir" turn off.
Continue up the mountain on paved road
Pavement will end in appox. 8 miles. Veer right as pavement ends…
There are several "CMR" signs to guide you.
Continue on dirt road 4 miles then turn Lt. (East)-
Go about .5 miles (Half mile) then turn Rt. (South) again.
Continue about another 4.5 miles then turn Lt. On to the camp road.
Travel about .5 miles (Half mile) to the camp gate.
Enter Gate and have a great time.
There are designated camping areas for trailers or motor-homes.
Tents may be pitched in any grassy area (Try to stay clear of Frisbee Golf Course; Golf holes are numbered).
A Few Camp Rules for "Family Camp":
– No pets.
– No fire works, fire arms, or open fires. Unless permission is granted by camp director…
– Children must have adult supervision at archery range and BB gun range.
– Use camp water very sparingly for washing and showers. But drink lots…
– Please refrain from speaking about religious groups in mixed company.
– We ask that you attend all chapel sessions. This is a "Bible" camp.
– Please haul your own trash off the mountain. (You may also take some of the camp trash down if you like.)
– Generators must be turned off by 11:30 PM.   (To avoid cranky neighbors.)